June 9, 2021: The first day is always full with final packing, last minute chores, and the anxiety that goes with an adventure. We made it out of the driveway just after 2 and arrived at Sebastian Inlet Campground just after 4 to a lovely campsite with a great view of the ICW (Intracoastal Waterway).
Just before the trip began, we accepted delivery of Winnie with a new Gree mini split air conditioner. You can read all about the fine job Dr. HVAC did on the installation and how the quiet low power draw will make it possible to run Winnie's air conditioner and other functions on a small Honda generator, for comfortable 'camping' all summer in places with no electricity available. If you are interested in air conditioning without the noise, click here.
We began our trip with a short drive to Sebastian Inlet. Follow our journey by clicking here. 
We had lunch with Jean and Gary Glen on our way North.  Click Here to enjoy the memory of our lunch.
After lunch in the Melbourne area, we headed North for Tomoka State Park. You can read all about that and the state of the Great Chief Tomokie by clicking here. 
June 13, Stu's birthday, found us camping just outside of Savannah in the Red Gate Farm RV Campground, just a few miles from downtown Savannah. Click here to share a nice day with us.
June 14, We traveled to the Lazy Acres Campground near Fayetteville, NC. While we were in Fayetteville, we stopped to visit the Airborne and Special Operations Museum.  Click here to enjoy the sights of airborne warfare with us.
June 15-16 We stayed at Pocahontas State Park in a lovely, wooded campsite that was distant from other campers. We shared it with lots of singing birds.
June 16 we entered the Washington. DC area by crossing the state line into Virginia.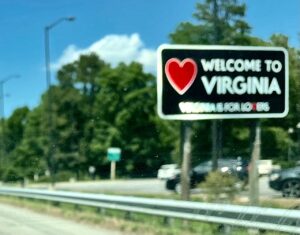 We continued North directly through DC via the best looking approach.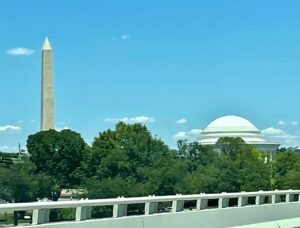 Finally the traffic let us get to our planned stopping point for the tourist week in Washington. The approach from the South via I-95 is patriotic. The first sight that comes into view is the Washington Monument. Fitting.
Joan picked a campground "close" to Washington by helicopter. Not so easy by car with traffic and construction. It was a lovely park, with two pools, a hot tub, two brand new laundries, and distributed sights. Our first dinner, a meal Stu had anticipated all year, was at Ledo's Pizza, serving a unique crispy crust pizza with thick sliced pepperoni. Started our diet on a good footing.
On our first full day. Thursday, June 17, we visited the Washington Zoo. Enjoy the animals with us by Clicking Here.
On Friday, June 18, our first real drive to Downtown DC turned out to be Friday, June 18, the day the first Juneteenth was celebrated. In DC, the celebration turned into a day off for all Federal employees so there was no traffic, lots of parking, and no people for our visit to the Pension Building, now called the Building Museum. Click Here to visit the Building Museum with us.
Friday evening, we attended the evening performance at the Washington Marine Barracks. The marching, music and silent drills demonstrated the pageantry of our marines. Click Here to share the enjoyable evening with us.
June 19 turned out to be one of our best days on the visit to DC. Join us by Clicking Here as we visit the National Air and Space Museum Steven F. Udvar-Hazy Center. A big name for a truly inspired location that guided us on the trip to the very first flight through the Concorde Supersonic Transport and the trip to the moon and Shuttle Discovery. The impressive adventures of mankind as we escape from Earth are truly impressive.
The day was capped with an Ethiopian dinner with old friends, Gabe and Kim Goldberg. We were so overjoyed in seeing them, we neglected to photograph the event and the colorful dinner we shared.
June 20 was a special surprise when we visited the Aquatic Gardens, the first visit for both of us. It is a special place to relax, walk around, be impressed by the flowers, and see people in Washington who actually smile, greet other travelers, and enjoy our world. Click Here to enjoy a special visit with us.
June 21, we visited the National Museum of American History, home of the First Lady Gowns, the Flag from Ft. McHenry (the actual Star Spangled Banner) and so many other exhibits, we saw only part of them during the time we planned for the visit. Part of the visit was hampered by traveling on these fixed-to-the-wall bicycles.
2021 June 22 found us inside all day in the rain. Happy to relax.
2021 June 23, We first visited the National Museum of the American Indian. It is housed in a building that invokes the feeling of outdoors and the rustic life, but graphically depicts how terribly the Indians were treated, with their homelands taken from them, and having to endure forced marches west, when many died. We were quite upset by the treatment the American Indians received by our government. Shameful.
We took a break for lunch on the revitalized Washington Wharf where boats delivered seafood and produce to the city years ago. It is a modern tourist dining and strolling area with very limited outdoor seating in the shade. We opted for lunch at Grazie, where they specialized in salad and tasty sandwiches.
Then we continued on to the Smithsonian American Art Museum and Portrait Gallery, It would take many days to see all that those museums have on display.
2021 June 24, National Museum of African American History and Culture is an amazing place that tells the terrible story of slavery and emancipation in the United States. Share our visit by Clicking Here.
2021 June 25:  Joan flew back to Florida from Dulles Airport and Stu began the drive to visit his kids in Texas.
Click Here to travel to Leg 2, Stu's Trip from DC to Austin to Philadelphia.