June 9, 2021: The first day is always full with final packing, last minute chores, and the anxiety that goes with an adventure. We made it out of the driveway just after 2 and arrived at Sebastian Inlet Campground just after 4 to a lovely campsite with a great view of the ICW (Intracoastal Waterway).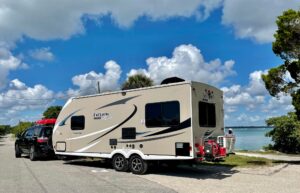 Just before the trip began, we accepted delivery of Winnie with a new Gree mini split air conditioner. You can read all about the fine job Dr. HVAC did on the installation and how the quiet low power draw will make it possible to run Winnie's air conditioner and other functions on a small Honda generator, for comfortable 'camping' all summer in places with no electricity available. If you are interested in air conditioning without the noise, click here.
We began our trip with a short drive to Sebastian Inlet. Follow our journey by clicking here. 
We had lunch with Jean and Gary Glen on our way North.  Click Here to enjoy the memory of our lunch.
After lunch in the Melbourne area, we headed North for Tomoka State Forest. You can read all about that and the state of the Great Chief Tomokie by clicking here. 
June 13, Stu's birthday, found us camping just outside of Savannah in the Red Gate Farm RV Campground, just a few miles from downtown Savannah. Click here to share a nice day with us.
June 14, found us at the Lazy Acres Campground near Fayetteville, NC. While we were in Fayetteville, we stopped to visit the Airborne and Special Operations Museum.  Click here to enjoy the sights of airborne warfare with us.
June 15-16, we stayed at Pocahontas State Park in a lovely, wooded campsite that was distant from other campers. We shared it with lots of singing birds.
June 16 we entered the Washington. DC area by crossing the state line into Virginia.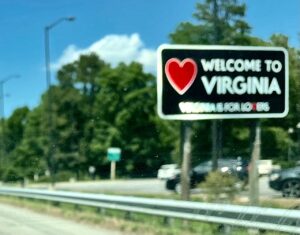 We continued North directly thru DC via the best looking approach.
Finally the traffic let us get to our planned stopping point for the tourist week in Washington.